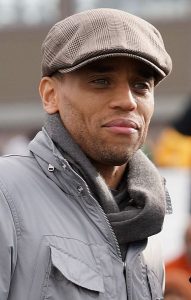 Actor Michael Ealy debuted in 2000, acting in an a pilot that never aired. The following year, he made his cinematic debut in the film Kissing Jessica Stein. He later had roles in the movies Bad Company, 2 Fast 2 Furious, November, and Never Die Alone. His first notable role on the big screen was as Ricky Nash in Barbershop. He reprised his role in the sequel Barbershop 2: Back in Business.
Later in 2005, he starred as Darwyn al-Sayeed in the Showtime series Sleeper Cell. Ealy then starred in the films Miracle at St. Anna, Seven Pounds, and The People Speak. He also became known for his recurring roles as Marshall Vogel in FlashForward and Derrick Bond in The Good Wife. After this, he played Ben in several episodes of Californication. In 2012, he starred as Travis Marks in the short-lived series Common Law.
During this period, he also had performances in the films Takers, For Colored Girls, Margaret, Underworld: Awakening, Think Like a Man, Unconditional, and Last Vegas, among others. From 2013 to 2014, he starred as Dorian in the Fox series Almost Human. He has since starred as Theo in The Following, Eric Warner in Secrets and Lies, and Justin Talbot in Being Mary Jane. As of 2019, he stars as Det. Miles Hoffman in the crime drama Stumptown. He also played the role of Jake in Westworld. His latest film roles were in 2019's The Intruder and Jacob's Ladder.
Michael Ealy keeps in top shape by sticking to his fitness regimen. One of his go-to workouts is cross fitting. His love of CrossFit has also led him to joing competitions. Of course, he also uses this as an efficient workout routine to keep himself fit for movies and shows. His physical training, however, depends on his roles.
For his part in About Last Night, for instance, where he needed to appear nude in some scenes, he prepped his body for three months. Following a "strict diet and regimen of Olympic power lifting", he achieved the ultimate body and strength he needed for that role.