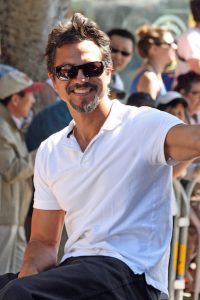 Hollywood actor Benjamin Bratt started his career in 1987. His first acting role was in the TV movie Juarez. He next played the role of Tony Maldonado in the ABC drama Knightwatch. After this, he joined the main cast of the short-lived series Nasty Boys. On the big screen, he had his first movie role in 1988's Lovers, Partners & Spies. In the 1990s, he gained recognition for his supporting roles in such films as Bright Angel, Demolition Man, and Clear and Present Danger.
From 1995 to 1999, he also gained wider recognition for starring as Detective Rey Curtis on Law & Order. He reprised his role in the spin-off Homicide: Life on the Street, as well as in the TV movie Exiled: A Law & Order Movie. Bratt then starred opposite Sandra Bullock in the 2000 comedy film Miss Congeniality. He next starred in the movies Traffic, Piñero, Abandon, The Woodsman, Catwoman, The Great Raid, and Trucker.
He also played Dr. Juvenal Urbino in the film adaptation of the book Love in the Time of Cholera. During this period, he also starred as Lt. Col. Jim Tisnewski in the TV series E-Ring. From 2008 to 2009, he starred as William Banks in the A&E series The Cleaner. As of 2010, he plays recurring character Javier Delgado in Modern Family. He also became known for his role as Dr. Jake Reilly in Private Practice. He recently starred as Jahil Rivera in the musical drama series Star.
Already in his mid-50s, the actor takes care of his health by eating well and living an active lifestyle. "I try to follow a healthy diet and work out as much as I can," said the actor. As for his workout routine, he combines going to the gym and spending some time outdoors. He shared: "I love the Santa Monica mountains. There are so many great places to hike, but if you're looking for something that is  both beautiful and kid-friendly, this is the place." In addition, Bratt also surfs and plays golf.