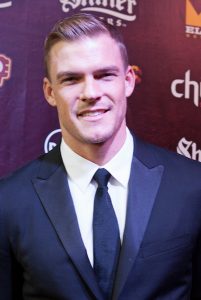 Alan Ritchson first appeared on TV as an American Idol contestant in 2004. The following year, he pursued acting instead and landed the role of Arthur Curry / Aquaman in Smallville. This marked his acting debut. He next made his cinematic debut in the 2006 film The Butcher, followed by another role in the film Steam. He was also the voice of Aquaman in the direct-to-video film Justice League: The New Frontier.
He later appeared in the film Fired Up!, as well as starred in the TV movie Midnight Bayou. From 2010 to 2011, Ritchson starred as Kevin Devlin "Thad" Castle in the sitcom Blue Mountain State. At the same time, he had one-time roles in such TV shows as CSI: Miami, 90210, Fred: The Show, and Hawaii Five-0. In 2013, he played the role of Gloss in the film The Hunger Games: Catching Fire.
After this, he got the part of Raphael in Teenage Mutant Ninja Turtles. The actor then reprised his role as Thad in the film Blue Mountain State: The Rise of Thadland. He also played Raphael again in 2016's Teenage Mutant Ninja Turtles: Out of the Shadows. Afterward, he starred as Arthur Bailey in the short-lived series Blood Drive. As of 2018, he stars as Hank Hall / Hawk in the web series Titans. Other films he's starred in include Office Uprising and Above the Shadows.
It's pretty much obvious how the actor follows a rigorous workout routine. But it's not all about physical training for him. His diet also plays a crucial role when it comes to achieving a body as great as his. The actor said that he follows an 80/20 diet which mainly consists of fish and lots of salad. This diet also doesn't include dairy and refined sugar. Plus, he also doesn't eat too much red meat. Still, he allows himself to indulge in his cravings every now and then. "I give myself permission 20% of the time to eat whatever I want," said the actor. "I'll have a piece of pizza, and I don't beat myself up about it."