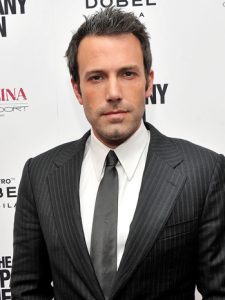 American actor Ben Affleck has been in the industry since he was a child, though he was already in his 20s when he got noticed for his role in the film Dazed and Confused. He got also recognized for his collaboration with director Kevin Smith in the films Dogma and Chasing Amy. It was, however, his work in Good Will Hunting, in which he co-wrote the script with long-time friend Matt Damon that got him mainstream prominence, winning them both an Academy Award for Best Original Screenplay. He has since starred in Armageddon, Pearl Harbor, and The Sum of All Fears. Venturing into directing, he directed Gone Baby Gone, then The Town and Argo. For his work in Argo, he won a Golden Globe and BAFTA for Best Director. He recently portrayed Batman in Batman v Superman: Dawn of Justice.
The award-winning actor has proven his talent in all respects, may it be acting, writing, or directing. Now in his 40s, it cannot be denied that the actor still has the charm of a man in his 20s. With his busy life, being in Hollywood and being a father to three kids, it is amazing how Ben can manage to stay fit and healthy. Guided by his roles in the movies, the actor makes sure his lifestyle is clean and healthy, this includes the food he eats everyday.
For his role as the Batman, however, posed a bit of challenge for the handsome actor. With this, he needed to undergo a more strict dietary regimen to gain more muscles as being a vigilante/superhero requires one to bulk up. For this reason, he stuck to mostly lean protein, including fish, eggs, lean beef and chicken. In addition, he made it a point to consume sufficient amount of carbs especially when working out so his energy keeps being replenished. Another secret to gaining muscles is the enhanced consumption of healthy fat with the purpose of increasing his body's natural testosterone levels.