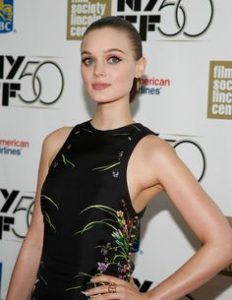 Australian star Bella Heathcote's career in Hollywood gets more interesting. Starting her acting journey on the Australian film Acolytes, she then appeared on the soap opera Neighbours. She next starred in the Australian war film Beneath Hill 60. Her first role in a Hollywood film was in In Time. She got her Hollywood break with a starring role in Dark Shadows. Subsequent films are Not Fade Away, The Rewrite and The Curse of Downers Grove. She continued her active career with starring roles in Pride and Prejudice and Zombies and The Neon Demon. She will star as Leila Williams on Fifty Shades Darker.
Standing at 5'6, the 29-year-old actress noticeably has a slender figure. She actually appears modelesque with her large eyes and remarkable cheekbones. While her being young has something to do with her thin frame, it is also because the actress tries her best to practice a healthy lifestyle. Aside from making efforts to eat right and healthy, she also makes an effort to exercise. Working out is as important as eating healthy and the actress knows that. As she is getting busier with her Hollywood career, she needs to have more energy and stamina to be able to work productively.
With this, she is more active when it comes to physically exerting efforts. She does cardio exercises to increase her strength and stamina. She likes running and even taking a walk counts as an exercise for her. When she's not busy, she hits the gym or sometimes she just works out at home. Of course, she wants her physical endeavors to be fun-filled activities, so she also spends time with her friends doing outdoor activities. For her role as Leila Williams in Fifty Shades Darker, she notably dyed her hair to black. It is unknown whether the actress lost weight for the role as she is already thin.