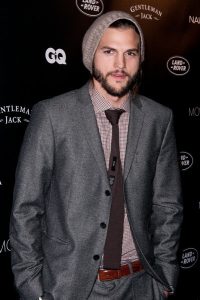 Hollywood star Ashton Kutcher began his career as a model. He eventually shifted his focus to acting, which ultimately turned out great for him. His debut was as Michael Kelso on the sitcom That '70s Show. The success of the show turned him into a television star. While on the show, he starred in mostly comedic films like Dude, Where's My Car?, Just Married, and My Boss's Daughter.
He then starred in the psychological thriller The Butterfly Effect, as well as in the romantic comedy-drama A Lot like Love. After That '70s Show ended, he focused in his movie career. In the 2010s, he starred in the ensemble film Valentine's Day, romantic comedy No Strings Attached, and portrayed Steve Jobs in Jobs. He returned to television as Walden Schmidt on the sitcom Two and a Half Men. As of 2016, he stars as Colt Bennett on the Netflix series The Ranch.
The 39-year-old actor is not a fan of working out in the gym, saying he gets easily bored doing weights or running on the treadmill, though he continues working out regularly. After playing a hitman in the 2010 movie Killers, Ashton discovered military self-defense system Krav. This led him to train further, even working with a Krav Maga trainer for 3-4 days a week.
In an interview, Ashton said about his Krav training: "The great thing about Krav is that every year it changes. Every time someone comes up with a new move, something new with ground defence, [Krav] finds a way to counter-attack it. There's no set discipline. It's whatever works."
He added: "For Killers, I worked out six days a week for two hours a day. I was doing Krav Maga and Muay Thai fighting. I was trained by the French Muay Thai national champion. I also have a friend who's a former military guy, and so we worked together on some technique, you know, just basic groundwork." Aside from this, the actor spends one day in week to go on a vigorous hike. He also practices yoga three times a week for flexibility.