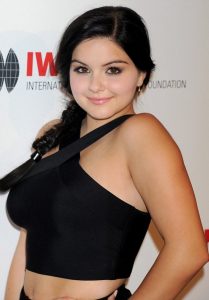 American television star Ariel Winter is only 18, buts she's already a TV staple. Her professional acting career both on film and TV began in 2005. Her first film would be Kiss Kiss Bang Bang. After this, she worked as a voice actress. She lent her voice in such animated films as Bambi II and Ice Age: The Meltdown. She next appeared in the horror film One Missed Call and action movie Speed Racer. Her next significant voice acting stint was on Phineas and Ferb as Gretchen. She garnered wider recognition for her role as Alex Dunphy on Modern Family. She still stars on the show. Also since 2013, she voices the title role on Sofia the First.
The 18-year-old actress, despite her young age, works out to be fit and healthy. Her curvy figure has often found herself in the position to stand up against body shamers. She was even once compared to singer-actress Ariana Grande. Grande is obviously super slim, while Winter is not. Of course she didn't let this weight her down. She focuses on loving her body and taking care of it through working out. This is something that she does not only to look better, but also to feel much better. She believes that exercising is not only physical, but also mental.
It's also great that the Modern Family actress frequently shares positive posts about loving one's body in social media. She spreads confidence among other young girls. As for her workout routine, the actress hits the gym whenever she can, sometimes with her boyfriend. She also makes sure she engages in outdoor activities such as hiking and trekking. This is to keep her physically occupied while also having fun with nature. Ariel Winter usually works on her fitness by doing cardio and doing some squats as well.