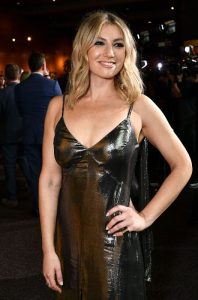 It was in 2001 that Hollywood star Ari Graynor started her acting journey. Her first acting gig was as Caitlin Rucker in 4 episodes of The Sopranos. She next made her big screen debut in Mystic River as Eve Pigeon. She next appeared in the films Book of Love and Imaginary Heroes. She later portrayed Paula Baniszewski in the 2007 movie An American Crime.
She also had a supporting role in Nick and Norah's Infinite Playlist. Further success thanks to her performances in the films Youth in Revolt and Whip It. She next played Rachel Dunham in the TV series Fringe. In the 2010s, she had roles in the films Conviction, What's Your Number?, The Sitter, and Celeste and Jesse Forever. She then landed the lead role in the short-lived sitcom Bad Teacher. This year, she appeared in the movie The Disaster Artist. She then joined the main cast of the new series I'm Dying Up Here.
The 34-year-old actress is proud of her curvy physique. It also doesn't seem that she's bothered by the strict standards of accepted body images in Hollywood. She's not pressured to go through strict diets or workout intensely for the sake of appearing slim. While she tries to practice a healthy lifestyle, she does this for health and strength, not to decrease her waist size. In fact, for her role as the seductive teacher in the sitcom Bad Teacher, the actress claimed she didn't diet or exercise vigorously to prepare for her role.
In an interview, she revealed how she hasn't exercised regularly in a long time. She said: "I haven't worked out, this is unfortunately true, in over a year. I hate any kind of physical activity. I've more just tried to cool it on eating everything in sight." About her decision to not work too hard in terms of changing her body, she said: "So rather than feeling the pressure of having to look a certain way for the role and for the outfits, it was more about not expelling that energy of self-loathing at the end of the day if I had hung around the craft services table for too long, especially with Meredith feeling so confident."