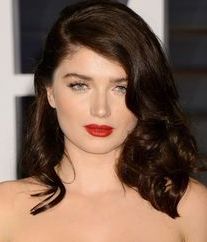 Irish actress Eve Hewson started her acting career in the mid-2000s. Her first role was in the 2005 movie Lost and Found. Three years later, she appeared in the movies Jorma's Blind Date and The 27 Club. She became more prolific in the 2010s. During this period, she played the role of Mary in the drama film This Must Be the Place. She also appeared in the music video of The Script's single "For the First Time".
She went on to pursue a career in Hollywood with performances in Blood Ties and Enough Said. From 2014 to 2015, she starred as Lucy Elkins on the Cinemax series The Knick. This also marked her television debut. Following this, she played Carol Donovan in Steven Spielberg's 2015 film Bridge of Spies. She next starred in the biographical feature Papillon. Last year, she played Franny Nightingale in the movie Paper Year. She also portrayed Maid Marian in the film Robin Hood. She will star as Rose in the upcoming movie The True Adventures of Wolfboy.
The actress stays in shape by following a healthy lifestyle. For starters, she eats clean. As a general rule, she stays away from processed, junk foods. She has cravings and allows herself to have some fries or pizza every now and then. But, she never lets herself overeat. Apart from choosing her foods well, moderation is just as crucial. Hence, her diet plan mainly consists of lean meat, complex carbs, fruits, and vegetables.
For breakfast, she has oatmeal with fruits or boiled egg with tea. She likes to have a hearty meal in the morning to start her day right. To increase her vegetable and fruit intake, she has a smoothie in between meals. She also enjoys eating blueberries and yogurt for snacks. Lunch and dinner are mostly some protein from fish or chicken with salad.