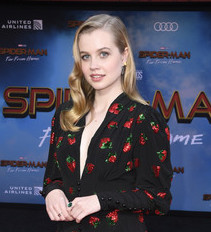 Aussie actress Angourie Rice began her career playing the role of Rose in the 2013 sci-fi apocalyptic thriller, These Final Hours. That same year, he appeared as Jade in the film Walking with Dinosaurs. After this, she landed one-episode roles in the TV shows, including The Doctor Blake Mysteries, Worst Year of My Life Again, and Mako: Island of Secrets.
During this period, Rice flourished in her movie career. She had a performance in the film Nowhere Boys: The Book of Shadows before pursuing a career in Hollywood. Her first role in an American movie was in The Nice Guys, followed by another part in the Australian mystery drama Jasper Jones. In 2017, she appeared as Jane in the film The Beguiled, which starred fellow Aussie actress Nicole Kidman.
That same year, she came to fame for her role as Betty Brant in the superhero film Spider-Man: Homecoming. She next had notable roles in the movies Every Day and Ladies in Black. In 2019, she reprised her role as Betty in the Spider-Man sequel Spider-Man: Far From Home. At the same time, she starred as Rachel Goggins in an episode of Black Mirror. More recently, Rice starred as Siobhan Sheehan in the miniseries Mare of Easttown.
One of the promising actresses to debut in Hollywood in the recent years, Angourie Rice proves to be a valuable talent and more. Only in her early 20s, diets and fitness tricks don't concern her yet. While she tries to be conscious of her health habits and live an active lifestyle, in general she doesn't follow any diet plan and eats whatever she wants.
Speaking of her diet, she admits to missing Melbourne food while working in the US. Her local favorites? "The classic avocado on toast, and great acai bowls, really great salads — with not too much dressing. And they put, like, pomegranate seeds in them — it's delicious," said the actress.