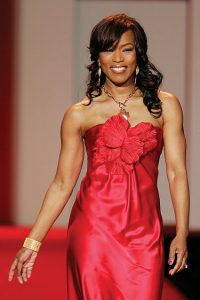 Hollywood actress Angela Bassett got her start in the 1980s. She made her film debut with a small role in F/X. Her first television gig was in 5 episodes of Search for Tomorrow. In the 1990s, she had her first credited role in the film Critters 4. She next appeared in the movies Boyz n the Hood and Malcolm X. She got her breakthrough after she portrayed Tina Turner in the biographical film What's Love Got to Do with It. She won the Golden Globe for Best Actress for her performance here. She also got an Academy Award nomination. Other notable roles in the '90s were in the film Panther and in the miniseries The Jacksons: An American Dream.
In the 2000s, she starred in the films The Score, The Lazarus Child, Akeelah and the Bee, and Notorious. She also became known for her role as Dr. Cate Banfield in the NBC series ER. In the 2010s, she became widely known for her performances in the anthology series American Horror Story. She also played Amanda Waller in the movie Green Lantern and had roles in the films This Means War, Olympus Has Fallen, and Black Nativity. This year, she played the role of Ramonda in the movie Black Panther. She also plays Sergeant Athena Grant in the new Fox series 9-1-1.
She is already turning 60 this year but it is apparent that the actress remains fit and healthy. What's her secret? Aside from eating clean and healthily, the film and television star also stays active by working out. "My goal with exercise is I try to do it more often than not," she said in an interview. Bassett also trained vigorously for her role in Black Panther. According to her trainer, she did high-intensity interval training, as well as focused on circuit training.