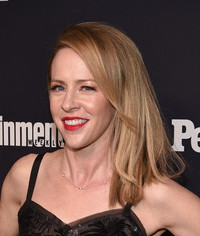 Hollywood star Amy Hargreaves had her career start in 1992. She made her debut in an episode of Lifestories: Families in Crisis. Her first recurring role was as Chloe Drescher on the CBS drama series Matt Waters. Meanwhile, her first movie role was in 1994's Brainscan. The rest of the '90s saw her performing in the films Tilt-A-Whirl and Somewhere in the City, as well as in the TV film Saint Maybe.
The following decade, she appeared as Haley Sundstrom in 2 episodes of Third Watch. She next had guest appearances on Law & Order: Special Victims Unit, Law & Order, The Unusuals, and Mercy. In 2011, she started playing the recurring role of Maggie Mathison on Homeland. At the same time, she had roles in the films Shame, Blue Ruin, How He Fell in Love, and The Preppie Connection. More recently, she starred in the movies Super Dark Times and Wonderstruck.
She also became known for her role as Lainie Jensen on Netflix's 13 Reasons Why. In addition, she has had guest appearances on such TV shows as Person of Interest, Blue Bloods, The Following, The Blacklist, Elementary, The Mysteries of Laura, and Power. She next guest starred as Olivia Delidio on Blindspot.
In order to maintain a healthy weight, the actress follows a balanced diet plan. Her meals basically consist of proteins, complex carbs, with fruits and veggies on the side. As a general rule, she stays away from processed and junk foods. Not entirely, but she only focuses on having healthy foods in her body most of the time.
For breakfast, it's mostly an egg, toast, or whole grain oatmeal with fruits. She then has fish or chicken for lunch with a salad. As much as possible, she avoids eating red meat to avoid its high cholesterol. She has something lighter for dinner, maybe a bowl of pasta or a tuna sandwich. Occasionally, she indulges in a glass of wine and chocolate.