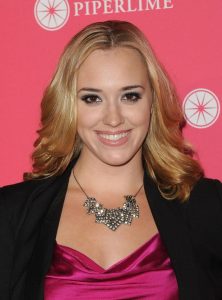 Hollywood star Andrea Bowen got her start in the mid-1990s, appearing on the TV movie New York Crossing. At the same time, she had a two-time role on Law & Order. Her next role was in the 1997 film Highball, which became her big screen debut. In the early 2000s, she first had one-time roles on several TV shows. She also had three-episode roles on That Was Then and Boston Public. She later got her breakthrough as Julie Mayer on Desperate Housewives, a role she played from 2004 to 2012, gaining her mainstream prominence.
While on the show, she appeared in the films Red Riding Hood, Eye of the Dolphin, and starred in a couple of TV movies. She also continued guest-starring on other shows, including Without a Trace, The Closer, and Ghost Whisperer. In the 2010s, she had performances in the movies Divorce Invitation, G.B.F., Zoe Gone, Jonny's Sweet Revenge, and A Winter Wedding. She also voiced Talia al Ghul in an episode of the animated series Batman: The Brave and the Bold. In addition, she had one-time roles on The Secret Life of the American Teenager, Hawaii Five-0, and Scandal.
The 28-year-old actress stays in shape by sticking to a clean diet plan. Despite her young age, she already knows better than to put processed and junk foods in her body. Instead, she chooses nutritious foods most of the time. She does this not only to maintain her slim figure but to also feel great from the inside out. Consuming clean, whole foods on a regular basis keeps her fit, strong, and healthy. On the other hand, eating unhealthy meals makes her feel sluggish and bloated. Furthermore, her diet plan mainly consists of complex carbs, lean proteins, as well as fruits and vegetables. While she indulges in her cravings from time to time, she doesn't overeat.