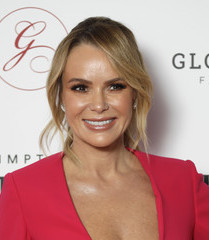 Amanda Holden first appeared as a contestant in the dating game show Blind Date in 1991. She later appeared as Carmen in 5 episodes of the show EastEnders. After a couple more brief roles on TV, she appeared in some more episodes of the sketch comedy series Goodness Gracious Me. During the 1990s, she also had roles in such films as Intimate Relations, Don't Go Breaking My Heart, and Virtual Sexuality.
At the same time, she starred as Mel in the TV show Kiss Me Kate and as Geraldine Titley in ITV's The Grimleys. In the 2000s, she continued her acting career on the small screen, playing Louise Slaney in the TV drama Hearts and Bones. After this, she starred as Mia Bevan in the BBC drama Cutting It. In 2004, she played the title character in Mad About Alice. She next played the role of Sarah Trevanion in the ITV series Wild at Heart.
Since 2007, she appears as one of the judges in Britain's Got Talent. While on the show, she played recurring part Lizzie in the TV series Big Top. From 2009 to 2014, she was also a co-presenter at the A Night of Heroes: The Sun Military Awards. In the 2010s, she's mostly appeared on television as a presenter, establishing her as a prominent TV personality. She still acts every now and then, like in The Worst Witch where she guest-starred in 2 episodes.
Amanda Holden credits staying in an amazing shape to her clean diet plan. Specifically, she follows a vegeterian diet. While she primarily avoids red meat, she admits that she still eats fish. "For me, it's lots of avocado, chickpeas, and quinoa salads. I've been a vegetarian since I was 15, but I do eat fish," said the actress.
Getting candid about her food choices, she shared: "I like to have something wholesome for breakfast. I start the day with a bowl of sugar-free Alpen." Her go-to lunch is a bowl of soup or sushi, though she also confesses to missing lunch sometimes due to her hectic schedule. While she sticks to a healthy diet, Holden doesn't want to be strict about it. "I don't believe in half-fat anything. I have full-fat yoghurt, butter and cheese. And I splurge on the weekends," said the TV personality.