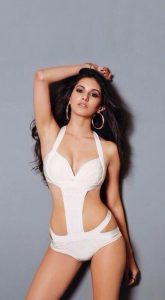 Indian star Amyra Dastur had her career beginnings just recently. She made her cinematic debut in the Bollywood film Issaq. Subsequently, she starred in the Tamil movie Anegan, which got her a SIIMA Award nomination for Best Debut Actress — Tamil. She also starred in the Bollywood film Mr. X. This year, she joined the cast of the Chinese-Indin film Kung Fu Yoga. This marked her first ever work in an international film. Also, she just starred in the Tamil feature Oodi Oodi Uzhaikanum alongside lead star Santhanam.
The 24-year-old actress keeps in shape by practicing a healthy lifestyle. To keep her energy and strength levels high, she makes sure she has an active lifestyle. When asked how she stays in shape, the actress answered: "I love my gymnastics and a flexible body, so I indulge in a lot of yoga from that aspect. I am not really into mediation etc. but I am more interested in physical benefits of yoga. I love the fact that it helps me keep a control on my body and muscles."
She also observes a regular fitness routine. She makes sure she allots some time to exercise. Despite her busy schedule, she makes it a point to leave some time for her workout routine. She revealed: "Be it gym or yoga, I love it all. I start my day with it and it has to be at least for an hour and a half each morning. Even when I am holidaying, I stick to this regime." She knows that exercising on a regular basis does not only maintain her healthy weight and make her stronger, but it also makes her happier, like basically in a good mood. It's because the brain releases endorphins, the feel-good chemicals when you're exercising.