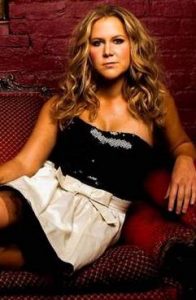 Hollywood comedian and actress Amy Schumer got her start in the mid-2000s. She first appeared as herself in the shows Last Comic Standing and Reality Bites Back. In the 2010s, she landed guest roles in the shows John Oliver's New York Stand-Up Show, Comedy Central Presents, and Comedy Central Roast of Charlie Sheen. Her first notable role was as Trish in the television series Delocated.
That same period, she also made her first credited role on the big screen in the movie Price Check. She next played Angie in 2 episodes of Girls. She gained mainstream recognition after her own show sketch comedy series Inside Amy Schumer started airing in 2013. She also serves as the creator, writer, and producer of the show. She later wrote and starred as Amy Townsend in the movie Trainwreck, released in 2015. Her latest films are Snatched, Thank You for Your Service, and I Feel Pretty.
The comedian and actress isn't your typical Hollywood celebrity. For one, she embraces her body image and doesn't allow to be pressured to be skinny. "I think it's good to see somebody saying: I have a belly. And I have cellulite. And I still deserve love," she said in an interview. In an interview with Bravo, she also shared how other people would tell her to lose weight.
She said: "Howard Stern once asked me, 'Why don't you lose like 30 pounds?' and I was like, 'I don't want to. I'll be hungry.' And I lost some weight for Trainwreck and I was like, beauty and body, that's not my currency, that's not my thing." Speaking of Trainwreck, she also revealed that she worked with a trainer to lose weight, who gave her a very strict dietary regimen to practice. "I got my meal plan which was like, a smoothie for breakfast, and then like for lunch you journal about that smoothie…like, there's no food," she revealed.