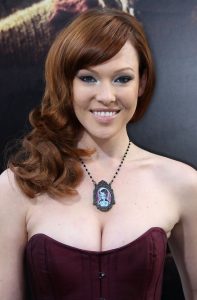 Hollywood star Erin Cummings had her beginnings in the early 2000s. She debuted in an episode of Star Trek: Enterprise with a small role. Her first credited role on television was in Threshold. She next had a one-time role in Charmed before landing the recurring part of Michelle in Dante's Cove. Meanwhile, before starting a career on the big screen, Cummings first performed in short films. In 2007, she made her cinematic debut in the independent film Rolling. She next appeared in the movie Welcome Home Roscoe Jenkins. In 2009, she had performances in the films The Anniversary, Dark House, and Bitch Slap.
She also played Ann Lloyd in The Bold and the Beautiful and appeared in 3 episodes of Dollhouse. In 2010, she played the recurring character of Sura in Spartacus: Blood and Sand, as well as played Candace in 2 episodes of Mad Men. Her first regular role on television was as Dr. Abbey Ward in the short-lived series Detroit 1-8-7. This was followed by her role as Ginny Saddler in Pan Am. Afterward, she starred as Bonnie Garretti in the short-lived show Made in Jersey. She later landed the role of Marge Slayton in The Astronaut Wives Club. More recently, she's made guest appearances in such TV shows as Feed the Beast, The Blacklist, and The Flash. She's also had roles in the feature films Cold Comes the Night, Late Phases, and Weepah Way for Now.
The 41-year-old actress stays in shape by sticking to healthy foods. For starters, she observes a clean diet plan by avoiding processed foods as much as possible. Her meals throughout the day mainly consist of lean proteins, complex carbs, and fiber-rich foods such as fruits and vegetables. Even her snacks are healthy ones, such as yogurts, fruits, and nuts. While she allows herself to indulge once in a while, she does so in moderation.