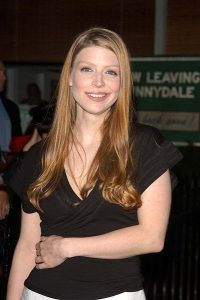 Hollywood star Amber Benson debuted in the 1993 TV film Jack Reed: Badge of Honor. That same year, she also made her first film appearance in King of the Hill where she played Ella McShane. She also played Cheyenne in the thriller The Crush. Her next performances were in the movies S.F.W. and Imaginary Crimes. In 1995, she co-starred in the film Bye Bye Love. She later played Stephanie in the teen film Can't Hardly Wait. Back on television, she gained mainstream recognition thanks to her role as Tara Maclay in Buffy the Vampire Slayer.
She played the said role from 1999-2002. She simultaneously starred in the movies The Prime Gig, Don's Plum, Taboo, and played the lead in the film Chance. Afterward, she had performances in the films Latter Days, Intermedio, Lovers, Liars & Lunatics, Kiss the Bride, Strictly Sexual, One-Eyed Monster, Tripping Forward, The Killing Jar, and Another Harvest Moon. During this period, she also made guest appearances in such TV shows as Supernatural, The Inside, The Cold Case, and Private Practice. In the 2010s, she made one-time parts in Grey's Anatomy, Ringer, Husbands, and Red vs. Blue. She also appeared in the web series Morganville: The Series. Meanwhile, her latest film was 2018's Glossary of Broken Dreams.
Apart from her workout routine, the actress stays in shape by following a clean diet plan. In an interview, she described herself as a "lapsed vegetarian". While she makes an effort to fully commit to a plant-based diet, she just can't — at least not all the time. That's fine, though, since she still makes sure that most of her food consumption is one that consists of nutritious foods. For starters, she has lean proteins, fiber-rich foods, whole grains, and other complex carbs as part of her everyday meals. She tries to stay away from processed foods as often as possible as they make her feel sluggish. However, she still has indulgences, which she allows herself to have in moderation.