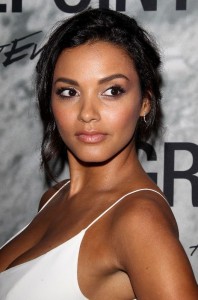 Canadian actress Jessica Lucas started her career during her teenage years in 2000 and first became recognized for her role on the Canadian television series Edgemont. She was first a recurring character in Season 2 and was promoted to being a regular cast from seasons 3 to 5. Simultaneously, she starred in the children's series 2030 CE. She made her American debut as part of the main cast in the short-lived show Life as We Know It. She then turned into the big screen, making her debut in She's the Man released in 2006. Subsequently, she was cast in the 2008 movie Cloverfield, which received good reviews. She returned to television with a main role in the remake of Melrose Place, but it was cancelled immediately. In 2011, she starred in the comedy Big Mommas: Like Father, Like Son, as well as starred on the TV series Friends with Benefits. Her most recent films are Pompeii and That Awkward Moment, both released in 2014. She now stars in Gotham.
Standing at 5'6, the 30-year-old actress possesses a remarkable beauty that's already been noticed. She might not be as highly popular as her contemporaries, but she's currently working on that. After all, she stars in a popular show (Gotham). With her hard work and talent, she'll surely get the break she's been wanting to have in a long time. Her fans also love her for being so sexy. Her toned body says it all. Even though she's in her 30s, Jessica looks like she's only in her 20s. Certainly, it has something to do with her lifestyle, as always.
When she was younger, she probably was more carefree when it came to her eating habits. But ageing always takes its toll and the actress knows that, prompting her to start a cleaner and healthier dietary regimen. She doesn't follow any specific or special diet plans. She just eats as healthy as possible by mostly having lean protein, veggies, and fruits. She drinks lots of water and stays away from fast food and other processed food most of the time. She has cravings, which she indulges herself in once a week.