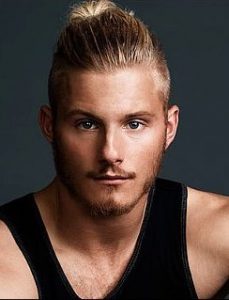 Hollywood actor Alexander Ludwig debuted in the 2000 film Air Bud: World Pup as an extra. He next appeared in the straight-to-video film MXP: Most Xtreme Primate. He later lent his voice for the movie Scary Godmother: The Revenge of Jimmy. He appeared as an extra again in Eve and the Fire Horse. In 2006, he played a role in the film A Little Thing Called Murder, which marked his first credited work. In 2007, he had a role in the direct-to-video film The Sandlot: Heading Home.
That same year, he also acted in the feature film The Seeker: The Dark Is Rising, playing the part of Will Stanton. Two years later, he played Seth in 2009's Race to Witch Mountain. He became further known in the 2010s for landing more notable parts. First, he played Cato in the blockbuster movie The Hunger Games. He next played supporting roles in major Hollywood movies — including Grown Ups 2, Lone Survivor, and When the Game Stands Tall.
On television, he gained mainstream recognition for his role as Björn Ironside in the History Channel series Vikings, a role he still plays up to now. He simultaneously starred in the feature films Final Girl, The Final Girls, and Blackway. This year, he starred in the movie Midway. It was announced that he'll star in the upcoming Bad Boys sequel Bad Boys for Life.
The actor took his workout routine more seriously when he landed a starring role in the TV series Vikings. As his character on the show matured, his body has gotten fitter and bulkier as well. Apart from working out, he also needed to undergo fight training. "It's a physical role and I did a lot of fight training with trainers who worked on Troy and other movies," said the actor.
"When I first got there, I would row for 2000 meters before starting a weightlifting routine. One training circuit I did is did chin-ups, leg exercises, and dumbbell burpees where I would put 60-pound dumbbells on each side of me and do a burpee with them, which is really good for your core."