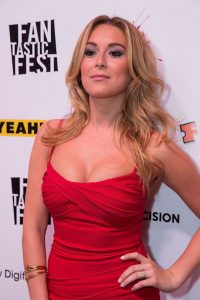 Hollywood star Alexa PenaVega got her start in the '90s as a child star. She made her television debut in Evening Shade while her first film role was in Little Giants. She later had roles in the movies Nine Months, Twister, and Dennis the Menace Strikes Again. In the 2000s, she rose to fame for her role as Carmen Cortez in the Spy Kids film trilogy. She has since starred in the movies Sleepover, Odd Girl Out, Walk Out, and Remember the Daze. She later played the lead in the short-lived series Ruby & the Rockits.
In the 2010s, she had recurring roles in Unsupervised, The Tomorrow People, and Nashville. She then appeared as a contestant on Dancing with the Stars. Her most recent roles on the small screen were in the Hallmark movies Destination Wedding and Enchanted Christmas. She's also reprised her role as Carmen in 2011's Spy Kids: All the Time in the World. In addition, she's had roles in the movies Machete Kills, Sin City: A Dame to Kill For, and Do You Believe?.
Ever since becoming a mother in 2016, the Spy Kids actress has since embraced a healthy lifestyle, which, of course, includes a clean diet plan. On Dancing with the Stars in 2015, she revealed that she struggled with bulimia for a long time, but that she has since recovered. In the present, she said she basically sticks to a gluten-free diet. She also avoids processed foods because it makes it tough for her body to process her much-needed nutrients.
As mentioned, motherhood also served as her motivation to stick to a healthy diet. "Yes, I would say I used to eat a lot more junk. Now that I'm breastfeeding, I'm trying to be more mindful of my diet. I love sugar and I've cut it out because I know it's not healthy for us," she said in an interview.