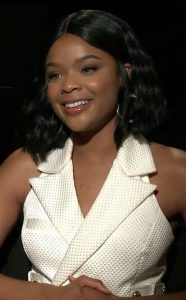 Actress Ajiona Alexus first landed the starring role of De'Anna in the sitcom The Rickey Smiley Show. The program aired on TV One from 2012 to 2014. While on the show, she also acted in the 2013 miniseries Chelsea's Way, where she played the titular character. Alexus next made her film debut in Unspoken Words, a low-budget feature production.
Her next roles were in Sons 2: The Grave and My First Love. At the same time, she appeared in an episode of Grey's Anatomy and Code Black. Her first notable role on television was her portrayal of the Teenage Cookie Lyon in the Fox series Empire. She played the said part recurrently from 2016 to 2019, as well as appeared in the film Bad Girl.
The actress gained wider recognition for her role as Sheri Holland in Netflix's 13 Reasons Why, starring on the show from 2017 to 2018. During this period, she also landed more film roles, such as in Something Like Summer, Family Blood, Acrimony, and Breaking In. Alexus became further known for her most recent performances — as Candace Preston in Hulu's Light as a Feather and Livvie in Runaways, also a Hulu show.
Ajiona Alexus considers herself a health conscious, which is why she takes her fitness seriously. She exercises as much as she could. When it comes to her diet, however, the actress admits to being more relaxed. She doesn't follow any strict diets and deprive herself of any food.
"I eat really bad, unfortunately," said the 13 Reasons Why star. "I'm always eating Chick-fil-A; probably some sweet and chili wings. I love sushi, too. And I like to top the night off with some red wine," she added. She said that she makes up for her poor food choices by working out. So, for fans asking about Sheri Holland's diet plan? There's none.