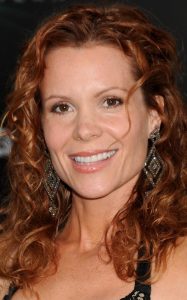 Hollywood star Robyn Lively has been acting since the 1970s. Her first acting role was in the made-for-television movie Summer of My German Soldier in 1978. The following decade, she landed one-time roles on the small screen, as well as parts in some TV movies. Later in 1986, she had her first movie role in The Best of Times. She became further known for starring as Louise Miller in the film Teen Witch.
That same year, she appeared in the film Wildcats. She appeared in more films and TV shows the rest of the 1980s. From 1990 to 1991, she became known for her role as Lana Budding Milford in Twin Peaks. She next played Nurse Michele Farber in Doogie Howser, M.D., Nurse Maggie Atkisson in Chicago Hope, and Lane McKenzie Collins in the primetime soap opera Savannah. From 1997 to 1998, she played Casey Wagonman in the CBS sitcom George and Leo.
She had no starring roles on television during the 2000s. Instead, she landed mostly guest roles on television. Also, she had a role in the 2006 film Simon Says. In the 2010s, Lively had performances in the films Letters to God, Ouija, and Small Town Crime. Also, she starred as Claire Gibbon in the television series Gortimer Gibbon's Life on Normal Street. As of 2019, she stars as Deb Brady in the Hulu show Light as a Feather.
Already in her late 40s, Robyn Lively maintains a healthy body by eating right and exercising. She has since able to manage her slender figure for decades now. Ageing doesn't seem to bother her, too. More importantly, she makes sure eats well. Part of energy, strength, and even youthfulness, she attributes to her clean Robyn Lively diet plan.
She doesn't eat meat often, not anymore. Her main sources of proteins are fish, chicken, soya, and broccoli, among others. She also compleements her meals with lots of salad and fruits. Hydration is also crucial for her so she drinks lots of water. She avoids processed and junk foods, and has since cut back on sugar and salt.