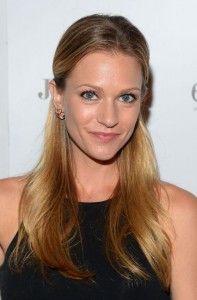 Canadian actress A. J. Cook was first a competitive dancer before deciding to shift her focus onto acting. She first achieved significant attention as one of the suicidal sisters in The Virgin Suicides (1999). She next launched her career on the small screen with a brief stint on Higher Ground, though it was in another television series, Tru Calling, that got her further recognition. She continued her television popularity after securing a main role in Criminal Minds in the mid 2000s. She's still with the show as one of the regular casts, making her a household name among television audiences worldwide. Her most work on the big screen were in Least Among Saints (2012) and Wer (2013).
37-year-old A.J. has incredibly maintained her slender figure all through these years despite her busy career and being a mother of two. Of course, being in crime-drama series requires her to stay fit and to be in her best shape, not just to look good onscreen but to perform more efficiently on the set. She basically works out and practices healthy habits when it comes to her meals, but she was in a more challenging position in 2008 after giving birth to her first child. Naturally, she gained weight so she underwent a more specialized training and dieting to lose weight. In order to achieve this, she swore to live on a 1,500 to 1,600 calories daily. The only good thing about about her diet is that she didn't take any extreme methods to lose weight quickly. She took it slow to make sure she stays healthy.
With her technique, A. J. lost 1-3 pounds per month. During her weight loss program, the actress would eat a banana with peanut butter stuffed into a whole wheat tortilla for breakfast. She got protein from eating peanut butter and potassium from the banana. Another option for breakfast is parfait made with a cup of plain, fat-free yogurt, blueberries, and ground flaxseed. For lunch, she would eat whole wheat pita stuffed with tuna (packed in water, not oil), light mayo, and dried cranberries. Her last meal of the day usually consisted of skinless chicken breast, grilled asparagus, and orzo combined with chopped spinach, red onion, and some seasonings to make her meal tastier.