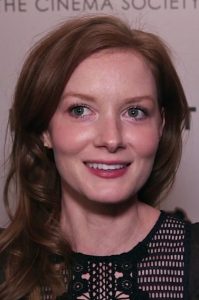 Hollywood actress Wrenn Schmidt had her career beginnings in 2006, appearing in an episode of Law & Order and 3 lbs. Her career grew prolific in the 2010s, landing one-time roles in Body of Proof, Blue Bloods, and Mercy. She also appeared in the documentary Client 9: The Rise and Fall of Eliot Spitzer. In 2011, she had her first feature film role in Javelina.
Shortly after, she appeared in the movie Our Idiot Brother playing the role of Beth. Back on TV, she had her first recurring role as Julia Sagorsky Harrow in Boardwalk Empire. After this, she had recurring roles as Kate in The Americans, Jenna in Tyrant, and Dr. Iris Campbell in Person of Interest. At the same time, she had performances in the movies Preservation, I Saw the Light, 13 Hours: The Secret Soldiers of Benghazi, and The Good Catholic.
Schmidt became further known after landing the role of Megan Holter in the horror drama series Outcast, which aired on Cinemax for two seasons. Recently, she starred as Diane Marsh in the Hulu series The Looming Tower. She simultaneously guest-starred in two episodes of Elementary. As of 2019, she stars as Margo Madison in the Apple TV+ series For All Mankind.
Wrenn Schmidt stays in shape by exercising and eating well. She mostly avoids carbs and foods that are high in salt and sugar, which only means she's not into processed foods, at least not anymore. For boosting her health, she doesn't have any special tricks or diets. Just that she eats healthily, hydrates well, and takes some supplements. "I drink a lot of water and take a multivitamin, a calcium supplement and vitamin B. But sleeping is also crucial," said the actress. Every now and then, she also indulges in her cravings. She said she loves "cocktails with crushed ice and desserts of any kind."