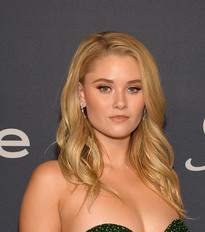 American actress Virginia Gardner first appeared in an episode of Hart of Dixie where she played the young Lemon. She next landed one-time roles in the television shows Lab Rats and Glee. Her first notable role on the small screen was as Lexy Bloom in The Goldbergs. Her role on the show was short-lived but memorable, nonetheless.
After this, she guest-starred in How to Get Away with Murder playing the part of Molly Barlett. In the movies, she debuted in the film Project Almanac. In 2016, she had roles in three films: Goat, Good Kids, and Tell Me How I Die. She also made guest roles in Law & Order: Special Victims Unit, Major Crimes, and Secrets and Lies. More one-time roles came in such shows as Zoo and The Tap as her TV career flourished.
Gardner came to wider prominence after getting the part of Karolina Dean in the Hulu series Marvel's Runaways, a role she played from 2017 to 2019. Simultaneously, the actress starred in the movies Little Bitches, Halloween, Monster Party, and Liked. Following this, she continued making guest roles on the small screen, appearing in such television shows as Heartstrings and The Righteous Gemstones. She went on to star in the movies Starfish and All the Bright Places, released in 2019 and 2020, respectively.
Virginia Gardner stays in good shape by living a healthy lifestyle. For starters, she's a sport enthusiast. She's even has a black belt in taekwondo. Her interests are very physical, enough to be her workouts. Apart from her active lifestyle, she takes care of her body and overall health by being cautious of the food she eats. She tries her best to avoid processed foods to give way to nutritious meals. Nonetheless, she doesn't follow any strict diets. She sticks to a simple diet plan consisting of lean meat, fruits, veggies, and whole grains as her food staple.