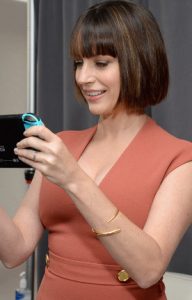 Hollywood star Julie Ann Emery had her career beginnings in 2002, debuting on the miniseries Taken. A few years later, she played supporting role Casey Sedgewick in the film Hitch starring Will Smith, which marked her cinematic debut. She later made guest appearances on such television shows as Ghost Whisperer, Bones, October Road, Army Wives, The Riches, Dexter, and Cupid.
At the same time, she also starred on the made-for-television film Pictures of Hollis Woods, followed by the feature films The Rainbow Tribe and House. In the 2010s, she guest-starred on Suits and Damages. She later played Ida Thurman on Fargo and Betsy Kettleman on Better Call Saul. After guest roles on Masters of Sex and The Following, she played Det. Stephanie Dunn on Major Crimes. More recently, she played recurring character Lara Featherstone on AMC's Preacher. In addition, she appeared in the 2013 film Movie 43, then in the 2017 feature Gifted.
The 43-year-old actress stays in shape by choosing the right food she puts her body. Most of the time, she consumes clean, well-rounded meals not only to maintain her healthy weight but to also sustain her body's overall well-being. She focuses on eating complex carbs, lean proteins, and fiber-rich foods. With this, she incorporates fruits and vegetables into her meals on a regular basis.
More importantly, she stays away from processed and junk foods, at least most of the time she does. Of course, she also admits that she has her cravings, which she indulges in every now and then, though in moderation. In an interview, she got candid about some of her favorite food and drinks. "Drink: Iced Tea (obviously). Appetizer: Nachos. Meal: fried chicken, cornbread, fresh sliced heirloom tomatoes, and mac-n-cheese. Dessert: peach pie with homemade whipped cream. Wow, I have given this a lot of thought," the actress shared.