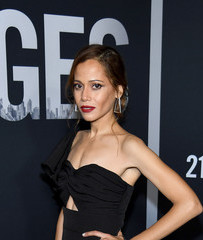 Hollywood star Victoria Cartagena first had a brief role in the 2004 low-budget film Baby Fat. Her first credited role was in Sorry Ain't Enough, released two years later. That same time, she starred as Zoe Lopez in the television series The Bedford Diaries. This also marked her first small screen role.
She next landed one-time roles in several shows, including Kidnapped, Law & Order: Special Victims Unit, Army Wives, and The Good Wife, as well as performed in the TV movie Protect and Serve. In the 2010s, she played a brief role in the action-thriller in Salt. She went on to guest-star in some shows, including Unforgettable, A Gifted Man, Blue Bloods, and Elementary. Cartagena came to prominence when she starred as Renee Montoya in the TV series Gotham.
After this, she played Evelyn Hernandez in The Path and Sonia Arocho in Jessica Jones. She also guest-starred in Deception and appeared as Claudia in 5 episodes of Netflix's You. At the same time, she played recurring character Lourdes in the supernatural drama series Manifest. Her latest work on the small screen was as Amanda in the Fox drama Almost Family. In 2019, she starred as Yolanda Bell in the film 21 Bridges.
Victoria Cartagena stays in shape by following a clean diet plan. She mostly sticks to a plant-based diet, which include plenty of fruits and vegetables. Her proteins are also plant-based like soya, beans, and nuts. For the actress, maintaining an organic diet that's loaded with greens is crucial not only for her physical wellness but also her mental health.
Eating the right food keeps her both healthy and happy. Nonetheless, she hasn't completely removed meat from her diet but it's mostly seafood and chicken and it's also not so often. Once in a while, she indulges in some comfort food like chocolates and cake.