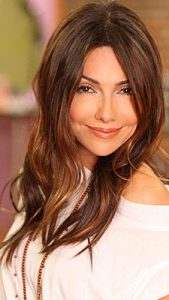 It was in 1992 that actress Vanessa Marcil got her start in the show business. She did so with her debut role, playing Brenda Barrett in the soap opera General Hospital. While on the show, she made her cinematic debut in the film The Rock. She later became known for her role as Gina Kincaid in the television series Beverly Hills, 90210, joining the main cast from seasons 9-10. Continuing her prolific career, she got the starring role of Sam Marquez in the television show Las Vegas.
She reprised her role in Crossing Jordan. Also in the 2000s, she starred in the movie Storm Watch. She went on to have recurring parts in the shows Lipstick Jungle and Without a Trace. In the 2010s, she's mostly worked in made-for-television movies, including Hallmark's The Convenient Groom. More recently, she starred in the Lifetime films The Wrong Mother and Bad Tutor.
She may be in her 50s but it sure isn't the case when you look at how fit Vanessa Marcil is. She attributes her healthy body to her clean diet and to her active lifestyle. While she's not your regular gym person, she does enjoy living a life that is active by engaging in sports and other outdoor activities. The actress revealed that she's not a fan of a structured workout routine and prefers just being spontaneous with whatever activity that she feels like doing.
"I honestly hate to workout with all my heart. I don't like structured exercise and I've never belonged to a gym. However, I am super active. I love to race motorcycles, surf, and I coach my son's little league," she said in an interview. Being a mom sure makes her super active on a daily basis. She does mommy errands that get her to take long walks and just being active in general. This alone helps her burn calories and help her stay in top shape.