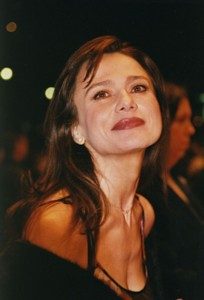 Swedish actress Lena Olin has been acting since the 1970s. Naturally, she started her acting career in her native Sweden. Her first credited role was in the 1978 Swedish film The Adventures of Picasso. In the 1980s, she had roles in the films Fanny and Alexander and Flight North. She also had starring roles in some made-for-television movies, including After the Rehearsal and Wallenberg: A Hero's Story. In 1988, she starred as Sabina in the Hollywood film The Unbearable Lightness of Being.
For her performance, she received a Golden Globe nomination for Best Supporting Actress. She next starred in Enemies, A Love Story the following year. Once again, she received much praise for her work. For her performance, she earned an Academy Award nomination in the Supporting Actress category. During the '90s, Olin continued her film career with roles in Havana, Romeo Is Bleeding, Mr. Jones, The Night and the Moment, Night Falls on Manhattan, Hamilton, and Mystery Man.
Also, she appeared in Roman Polanski's 1999 film The Ninth Gate. The following year, she starred as Josephine Muscat in the movie Chocolat, a role that got her a BAFTA nomination. Also in the 2000s, she became known for her role as Irina Derevko in the TV series Alias. More recently, she starred in the Swedish sitcom Welcome to Sweden. She also played Irina Atman on the TV drama Riviera and Annaliese Stilman in Mindhunter. She'll star in the upcoming web series The Hunt.
Now in her 60s, fans of the star wonder if she could have any diet tricks that help her maintain her youth. Not only does she look radiant, but her body is also one that's slender, fit, and strong. As for how she stays in shape, Olin just does the basics. She does cardio and a bit of strength training, too.