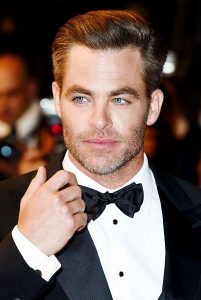 Hollywood actor Chris Pine began his career in the mid 2000s. This was when he made his debut in The Princess Diaries 2: Royal Engagement. He next played Lindsay Lohan's love interest in Just My Luck. His mainstream breakthrough was after landing the role of James T. Kirk in Star Trek. He has since reprised the role in the sequels Star Trek Into Darkness and Star Trek Beyond. He went on to play Jack Ryan in Jack Ryan: Shadow Recruit and starred in Horrible Bosses 2. More recently, he starred in Into the Woods, Z for Zachariah, The Finest Hours, and Hell or High Water. He's recently starred as Steve Trevor in Wonder Woman.
Chris Pine is surely getting all the great roles recently. Starting in romantic comedies and independent films, he's now taking Hollywood by storm with his amazing performances in many major films. It's also apparent how the actor has gone more bulked up recently compared to his skinnier self when he was younger. It is reported that Chris relied on two workouts to keep him in shape for his roles in Star Trek Beyond and Hell or High Water – boxing and yoga. Apparently, yoga and boxing are opposite, but Chris prefers this because it helps him sustain his fighting weight.
The actor actually prefers maintaining a normal body and doesn't aspire for really large muscles. His trainer said the actor uses Clubbells. These are bowling pin–shaped weights that are carried and used like kettlebells. The movements produced by these fortify muscles and enveloping connective tissue. Since clubbells are rare in gyms, you can settle for regular dumbbells, too. Other than this, Chris Pine also likes to perform outdoor activities. He goes for a jog as regularly as his schedule permits him. He also engages in such activities as hiking.