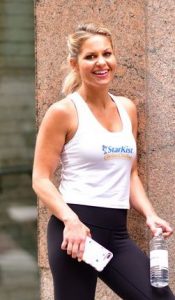 It was in 1982 that actress Candace Cameron Bure started her career in the show business. She debuted as Megan White on the NBC show St. Elsewhere. She next had guest-appearances on some shows before landing her breakout role as D.J. Tanner on the popular sitcom Full House. With the success of the show (1987-1995), she became a television staple. At the same time, she also had film roles in Some Kind of Wonderful, Punchline, and Monster Mash, as well as acted on a few TV movies. After Full House, she starred in several TV films, including No One Would Tell and She Cried No.
She became less active during the 2000s, only performing on a few shows, TV films and movies. She returned to primetime in 2009 as Summer Van Horne on the TV series Make It or Break It, airing on ABC Family (now Freeform) until 2012. In the 2010s, she mostly had roles in made-for-television films, such as The Heart of Christmas. In 2014, she was a contestant on Dancing with the Stars' 18th season. She later appeared on The View as host from 2015 to 2016. Afterward, she reprised her role on Full House, now Fuller House as D.J. Tanner-Fuller. On the big screen, her latest role was in 2015's Faith of Our Fathers.
Apart from her healthy diet plan, the television star remains fit and slender by sticking to an active lifestyle. While she has struggled with her weight during her younger years, she's now more confident of her body as she also incorporates exercising as part of her lifestyle. In an interview, she said that her wanting to be fit comes from within.
"If anyone follows my Instagram, they know how much I enjoy to work out because I post about it all the time," said the actress. "It's not like my character for DJ or any of the parts in my Hallmark movies or my mystery series require me to have a lean, fit body. I just really enjoy fitness because it's a personal choice, not because I have to look a certain way for my characters."