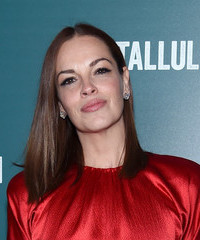 Hollywood actress Tammy Blanchard had her career beginnings in the late 1990s, debuting as Drew Jacobs in the soap opera Guiding Light. In 2001, she portrayed Judy Garland in the miniseries Life with Judy Garland: Me and My Shadows. For her performance, she won a Primetime Emmy Award for Outstanding Supporting Actress in a Limited Series or Movie. After this, she made her film debut in 2002's Stealing Harvard.
The rest of the 2000s saw her perform in the movies Bella, The Good Shepherd, The Ramen Girl, Cadillac Records, and Deadline. She also starred in several TV movies during this period, such as in We Were the Mulvaneys and Sybil, among others. In the 2010s, she had performances in the films Rabbit Hole, The Music Never Stopped, Moneyball, Union Square, Certainty, Burning Blue, Blue Jasmine, and Into the Woods.
She went on to star in the movies The Invitation, Tallulah, Boarding School, The Awakening, and A Beautiful Day in the Neighborhood. On TV, she played Sheree Ainsley in several episodes of Daytime Divas. As of 2019, she stars as Lana Cassidy in the USA Network series Dare Me. In addition, Blanchard made notable guest performances in Madam Secretary, Elementary, Bull, Billions, and Blue Bloods.
Tammy Blanchard stays in shape by staying true to her healthy lifestyle. Apart from her fitness routine, she also follows a nutritious diet plan. While she used to diet in order to stay slender, her decision to eat healthily now has nothing to do with losing weight. Already in her 40s, she sticks to clean, whole foods for their nutrients. Eating clean not only help her maintain a healthy weight, it also fosters a sense of wellness. Her diet plan usually consists of rice, chicken, fish, vegetable salads, and fruits. In between meals, she snacks on smoothies, almonds, and more fruits.