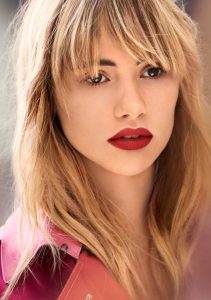 English actress and model Suki Waterhouse had her first mainstream modeling work for Marks & Spencer where she was a lingerie model. She has since worked with popular fashion brands, including Tommy Hilfiger, Burberry, and Redken. In 2012, she started her acting career. She debuted in the film Pusher. She next appeared as Bethany in the romantic film Love, Rosie. In 2015, she appeared as Marlene in the film The Divergent Series: Insurgent.
She later played Kitty Bennet in Pride and Prejudice and Zombies. At the same time, she appeared as herself in the British film Absolutely Fabulous: The Movie, as well as in the Hollywood movie The Bad Batch. This year, she starred in several films. This includes Assassination Nation, Jonathan, Future World, and Billionaire Boys Club. She also portrayed Mary Brunner in the film Charlie Says. On TV, she has appeared in an episode of Material Girl. She later portrayed Cecily of York in the miniseries The White Princess.
The model-actress stays in shape by following a healthy diet plan. So, what's her diet regimen like? "I really live by something I read in this book from the '80s which I skimmed over years ago called 'Fit for Life' – it's very old school, but it basically says that you should never eat carbs and protein together," Waterhouse said.
"It is so difficult for your body to break them down at the same time, so just have carbs with vegetables or meat with vegetables instead. It means I can have a load of mashed potato, but then I just won't eat any meat with it or vice versa. I think a lot of feeling bloated or not feeling your best self is all to do with digestion and this tip has really helped me." She indulges in sweets, too, and other guilty pleasures food like burger and fries. But, only every now and then and very moderately.