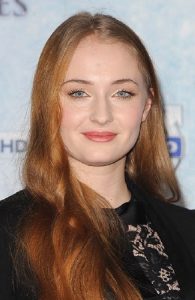 Sophie Turner is an English actress who came to international prominence for her role as Sansa Stark in the critically acclaimed HBO television series Game of Thrones. For her work on the show, she received a Young Artist Award nomination for Best Supporting Young Actress in a TV Series. Game of Thrones was her acting debut. Since then, Sophie landed other roles in the movies such as in Barely Lethal and Another Me. Her biggest role as a movie actress thus far is as Jean Grey in the upcoming film X-Men: Apocalypse. She will also play the titular character in Mary Shelley's Monster. Additionally, she ha starred in the TV movie The Thirteenth Tale.
The 20-year-old actress is surely now a sought-after actress. Getting lucky for her role on Game of Thrones, the young star is now unstoppable in her quest for recognition and fame in the acting industry. Being on a highly popular show, the actress surely implements a healthy diet to make sure she looks fit and good as well. Being young means that she's naturally slim through her fast metabolism though, but she doesn't get complacent as eating healthy is not only about being slender, but also being strong, something that she needs to be when shooting Game of Thrones.
For this reason, she engages in simple exercises and tries her best to eat nutritious foods most of the time. From proteins, to other kinds of vitamins, Sophie fills her tummy with healthy food that makes her look more amazing. She likes to eat cereal in the morning and fruit juices. She likes pasta and chicken for lunch combined with veggie salad. She then opts fish in the evening with some fruits as well. Of course, she also eats snacks in between so she doesn't get too hungry. For this, she usually has yogurt, almonds, and fruits. Once in a while, Sophie also eats tasty food like pizza and cupcakes.