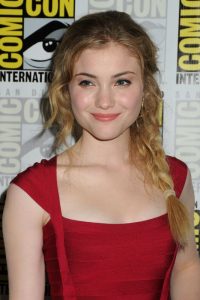 It was in 2004 that Hollywood beauty Skyler Samuels started her acting career. Her first acting gig was on Drake & Josh. This was followed by more guest roles in such shows as The Suite Life of Zack & Cody and That's So Raven. Her first recurring role was as Gigi in Wizards of Waverly Place. She then made her film debut in 2009's The Stepfather.
Her first starring role on the small screen was as Andie Bates in The Gates. At the same time, she starred in the movie Furry Vengeance. She then played the lead in the short-lived show The Nine Lives of Chloe King. In 2014, she played Bonnie Lipton in American Horror Story: Freak Show. She later played Grace Gardner in the first season of Scream Queens. That same period, she starred in the movie The DUFF. Her latest role on television was in The Gifted.
The 23-year-old actress stays in shape by taking care of her body. She works out and consistently explores other methods of physical and mental activity that can help her improve her physical and mental health. "My beauty practice is constantly evolving, as I am constantly evolving. I try to center my beauty practice around listening to my body and adjusting accordingly. Sometimes routines I've done for a while stop working and I have to get creative and discover a new one that works for me," she said.
What she's recently discovered that is great for her is yoga. She gushed about it in an interview. She said: "I recently started doing yoga and that has been an incredible journey for me. I've had some injuries in the past, and through yoga I am able to really focus on healing and improving my body in a way that doesn't feel forced. I also find that yoga is like the best combination of therapy and the gym—I get an amazing workout in and I am able to center my mind and feel empowered."