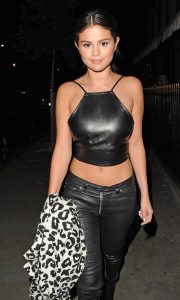 It was in 2002 that actress-singer Selena Gomez began her Hollywood career. She made her debut in Barney & Friends. Her film debut was an extra in Spy Kids 3-D: Game Over. She next appeared in the TV movie Walker, Texas Ranger: Trial by Fire. She achieved her break after landing the lead role of Alex Russo in the Disney series Wizards of Waverly Place.
While on the show, she starred in the movies Another Cinderella Story, Arthur and the Revenge of Maltazard, Ramona and Beezus, and Monte Carlo. She later starred in Hotel Transylvania, Spring Breakers, and Rudderless. As a musical artist, she was the singer of Selena Gomez & the Scene. The band released three albums together. In 2013, she released her first solo album Stars Dance. Her next album, Revival, was released in 2015. Last year, she starred in the films The Fundamentals of Caring and In Dubious Battle.
The performer just recently worked on her Revival tour last year. For this, she trained to make sure that her body is fully prepared. About her preparation, she said: "I've never really had a personal trainer, but I started working with Amy [Rosoff Davis] last year. She's incredible. I met her at Ballet Bodies in L.A., and we have a really fun friendship." She added: "At the moment, I'm training every day to build my stamina up for the tour. But don't get me wrong—it was not like this before the tour."
Selena also tries to variations in her fitness regimen. She explained: "Basically, I wanted to mix things up because I get bored easily. I just try to keep it fresh. I love how Pilates makes me feel, like it opens me up." She said she enjoys Pilates a lot because it helps her relax and gives her an increased feeling of peace. "And I'm doing two shows back to back, and that's cardio in itself," she added.