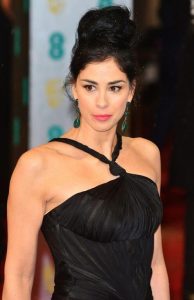 Hollywood actress and comedian Sarah Silverman started her career on Saturday Night Live during the early '90s. She next starred on the sketch comedy series Mr. Show with Bob and David. In 1997, she made her film debut in Who's the Caboose? which she also produced. She next had roles in the films There's Something About Mary and The Bachelor. In the 2000s, she starred as Alison Kaiser on the sitcom Greg the Bunny. She next played recurring role Marci Maven on Monk. From 2007 to 2010, she starred on her own show called The Sarah Silverman Program.
During this period, she also performed in several films, including Heartbreakers, School of Rock, Rent, I Want Someone to Eat Cheese With, and Saint John of Las Vegas. She also starred in Sarah Silverman: Jesus Is Magic, which she also wrote. In the 2010s, she appeared as Helen on Masters of Sex and Heather Nowzick on The League. She currently hosts the show I Love You, America with Sarah Silverman. In the movies, she starred in Peep World, Take This Waltz, Gravy, A Million Ways to Die in the West, Popstar: Never Stop Never Stopping, The Book of Henry, and Battle of the Sexes.
The 48-year-old actress stays in shape by following a vegetarian diet, which she has since been practicing since she was 10. Every now and then, though, plant-based meals can be hard to get especially when she's on the road. "Here in LA you have access to healthy things, but on the road, you get "Oh well, we have grilled cheese, that doesn't have meat." You get a lot of peanut butter and jelly sandwiches," the actress said.
"I love cheese and milk and eggs — if I could cut out dairy, I'd be perfect. But I love cheese so much, I'm probably addicted to it. If I could eat whatever I wanted and never gain a pound, I'd just eat shells with butter and grated jack cheese every day. And sheet cake," she continued.