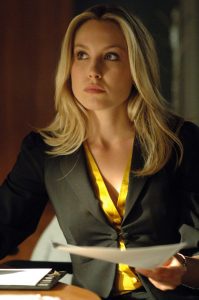 Canadian star Sarah Carter got her acting start in the 2000s. Her first starring role was in the show Los Luchadores. Her first movie role was in 2001's Mindstorm. She then became known for her role as Shaina McKlank in the movie Final Destination 2. She next appeared as Allie Bennett in the series Black Sash. Following this, she played Alicia Baker in the show Smallville.
Further success came after landing the role of Madeleine Poe in the TV series Shark. She's also starred in the movies Skinwalkers, DOA: Dead or Alive, Pledge This!, and Red Mist. She also played the lead in the movie Killing Zelda Sparks. From 2011 to 2015, she gained wider recognition for her role as Margaret "Maggie" May in the show Falling Skies. After this, she appeared in four episodes of Hawaii Five-0.
Sarah Carter stays in shape by following a clean diet plan. For one, she focuses on eating organic foods. "I eat mainly organic, raw food for environmental reasons, and it just feels better energetically to eat like that. You actually "get high" off your food if it's good raw food. I'm not necessarily a vegetarian, but I don't eat a lot of meat. I eat fish, but I haven't eaten red meat or chicken in years," she said.
This kind of diet helps her maintain her healthy weight. Besides, she's not only eating healthily for the sake of staying slim, she also does so to make sure that she takes care of her health and well-being as a whole. The actress also explained that eating processed foods decreases her energy. So, she naturally seeks out natural, whole foods because she needs the energy and the strength she can get from these foods. While she has indulgences every now and then, she makes sure that she practices moderation.