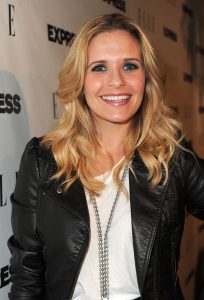 Hollywood star Sally Pressman had her first role in the 2003 film Swordswallowers and Thin Men. Her next film role was in 2006's Last Rites of the Dead. She also made one-time roles in Criminal Minds and Shark. Her breakthrough role was as Roxy LeBlanc in the Lifetime series Army Wives, which she played from 2007 to 2012.
She returned as a guest star in Season 7. She simultaneously had performances in the films The Dread and My Best Friend's Girl, as well as guest starred in The New Adventures of Old Christine and Man Up. In 2013, she played Candace Marcus in 3 episodes of the ABC series Scandal. She went on to make notable guest appearances in Person of Interest, Grey's Anatomy, Once Upon a Time, Major Crimes, Girls, and The Catch.
In 2016, she played the recurring character of Malkie in the comedy-drama show Younger. She next had one-episode parts in Pure Genius, 9JKL, Reverie, and 13 Reasons Why. As of 2018, she plays the role of Nancy in the NBC show Good Girls. In addition, she's had roles in the films Ladies on Top and 400 Days.
The actress stays on top shape by taking care of her body. In order to do that, she avoids processed foods and focuses on nutritious ones. Being healthy for her means to feel great from the inside out; not to look skinny. Hence, she doesn't follow any diet tricks that would require her to deprive herself of food. Instead, she just sticks to a clean diet plan consisting of proteins, fruits, and vegetables.
For breakfast, it's usually egg, oatmeal, or cereal with almond milk. She cuts down her sugar and carb intake so she goes easy on bread. For lunch, she has mostly fish or chicken with salad. Dinner is also something with high-protein food with veggies and fruits. She has also a cheat day once per week in which she allows herself to eat whatever she wants.