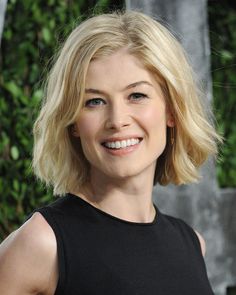 English actress Rosamund Pike started her acting career on television in the late '90s. Her first recurring role was on the British series Wives and Daughters. She made her big screen debut as Miranda Frost in the James Bond movie Die Another Day. She next portrayed Elizabeth Malet in the film The Libertine. Subsequently, she portrayed Jane Bennet in Pride & Prejudice. She has since played supporting/starring roles in the films Fracture and An Education. Continuing her career in the 2010s, she played Andromeda in Wrath of the Titans and played the female lead in Jack Reacher. She went on to play the lead in Gone Girl. She was nominated for the Best Actress Award at the Oscars for this. Her latest movie is 2015's Return to Sender.
Standing at 5'9, Rosamund's screen presence is strong and solid. With her slender body, you wouldn't think the actress is already in her late 30s (she's 37). The actress has worked so hard lately with her body. She worked hard to gain back her body after giving birth to her second child in 2014. She also worked hard to lose weight in order to play her role as Amy in Gone Girl. According to her trainer, her post-baby transformation just happened in five weeks.
During the production of Gone Girl, the actress had only 10 days to lose weight after being required to put on weight. To achieve this, her trainer took her off the high-sodium diet which had been necessary for the weight-gain process. First, she was able to gain weight by consuming good fats and protein. This means foods like avocados, almond butter and salmon, and very few carbs. When it was time to slim down, she ate three meals a day involving a ton of leafy greens and drank alkaline water. Her diet for the weight loss can be comparable to the paleo diet.