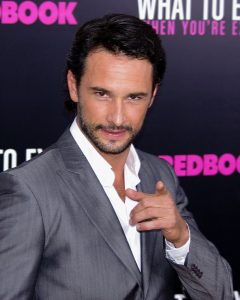 Brazilian actor Rodrigo Santoro started his career in his native Brazil in the mid-'90s. In 2003, he ventured a career in Hollywood. His initial films during this period were in Charlie's Angels: Full Throttle and Love Actually. He later gained recognition for playing Xerxes I in 300. Subsequently, he portrayed Raul Castro in the movie Che. His next films were in I Love You Phillip Morris and Post Grad.
In the 2010s, he starred in the films There Be Dragons and Hemingway & Gellhorn. He later played the titular character in the movie Heleno and joined the cast of the ensemble film What To Expect When You're Expecting. In 2014, he reprised his role of Xerxes I in 300: Rise of an Empire. More recently, he starred in the movies Focus, The 33, Jane Got a Gun, and Ben-Hur. In addition, he plays the role of Hector Escaton in the HBO series Westworld.
The actor maintains his lean and strong physique by sticking to an active and healthy lifestyle. He basically works out on a regular basis and stays active by engaging in outdoor activities. In an interview, he got candid about his workout habits, especially for his role in 300 and its sequel where he obtained a ripped physique. Interestingly, he said that he achieved his masculine body by surfing.
He explained: "It's a workout, but it makes me feel good. You're building your core by riding waves and your back and shoulders by paddling." The actor shared that he started surfing when he was 17 and has done it ever since. He added: "I lived in Hawaii for a while doing Lost's third season, and it was paradise. I'd go surfing two or three times a day when I wasn't working." When he's not surfing, he maintains his amazing body by doing bodyweight workouts to work on his core strength and upper body.