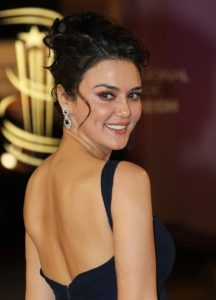 Indian actress Preity Zinta chose to pursue an acting career in the late '90s. Her first movie was Dil Se… Shortly after she had a notable role in Soldier. Lucky for her, both of these films won her the Filmfare Award for Best Female Debut. Her acting career became more prolific in the 2000s beginning with Kya Kehna. Ultimately, she was commended for her acting chops. This was after winning the Filmfare for Best Actress for her role in Kal Ho Naa Ho. Her starring role in Koi… Mil Gaya gave her her greatest box office success. She was also acclaimed for her work in Veer-Zaara. Becoming more successful, she starred in Salaam Namaste and Kabhi Alvida Naa Kehna. Both were also commercially successful abroad. It doesn't stop there as Preity also starred in the Canadian film Heaven on Earth, her international debut, for which she won international awards.
The award-winning actress may be in her 40s, but it doesn't seem to be the case when you look at her. This is because Preity practices a healthy lifestyle. This includes healthy eating and exercising. With her work as a busy actress and her personal life, she knows she needs to have the sufficient energy to keep going. The only way she can achieve this is to eat right. She makes sure she loads herself up with essential nutrients. That is why she basically avoids eating junk foods.
For one, she is fond of drinking fresh juices. She also chooses to make them at home. This way she's ensured that the ingredients used are healthy and fresh. She keeps her skin radiant by eating lots of carrots. She focuses on eating fruits, green veggies and lots of papaya, too, which keeps her energized and overall healthy. Also, instead of eating three regular meals daily, she prefers taking 5-6 smaller meals. This is an efficient way for her to avoid eating a lot. Lastly, she keeps herself hydrated daily to flush the toxins out of her body.