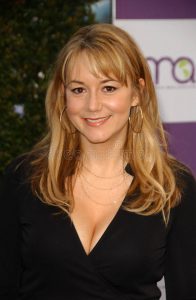 Hollywood actress Megyn Price had her career started in the 1990s during which she landed her first starring role on the TV series Common Law. After this ended, she joined the main cast of the show LateLine. She also acted in the movies Love Happens and Mystery, Alaska.
At the beginning of the 2000s, she became further known for her role as Claudia Finnerty in the series Grounded for Life. She also starred in the movie Larry the Cable Guy: Health Inspector. She was later cast as Audrey Bingham in Rules of Engagement, which gained her further prominence. As of 2016, she stars the recurring character of Mary Roth in the Netflix series The Ranch.
The television star stays in shape by eating right. She follows a healthy diet plan but she also makes sure that she still appreciates her meals. "I eat a vegetarian diet, but I HAVE TO keep it fun and interesting. I don't like being bored with my food, so I'm constantly exploring different cooking styles and traditions to incorporate into my own meals," she said.
Interestingly, the actress also has her own organic garden, so she really focuses on a plant-based diet. When she's busy at work, her go-to foods are "Trader Joe's greek yogurt, fresh fruit and chia seeds, and sips a Yerba Mate with a splash of soy milk". She also loves making lentil salad and walnut-green apple salad.
Talking about her vegetarian diet, she went on to reveal: "I'd already started eating less and less meat, and then my daughter popped out of the womb a vegetarian. Because of her I stopped cooking meat. She wouldn't eat it. So she sort of turned me. The final straw was reading Jonathan Safran Foer's book Eating Animals. He's not preachy, but he definitely doesn't pull any punches."