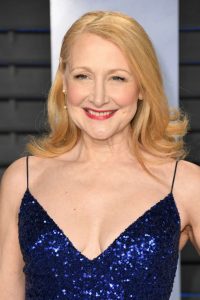 Hollywood actress Patricia Clarkson debuted with a one-time role in Spenser: For Hire in 1985. She next made her cinematic debut playing the role of Catherine Ness in 1987's The Untouchables. Afterward, she starred as Samantha Walker in the film The Dead Pool. The rest of the '80s saw her perform in the films Rocket Gibraltar and Everybody's All-American. In the '90s, she played Carol Anne Parrish in the box-office hit Jumanji. Her acting was then praised in the film High Art. Afterward, she played Melinda Moores in The Green Mile. During this period, she also became more active on television. She played Cosmo Yeargin in Davis Rules and Annie Hoffman in Murder One.
In the 2000s, she became widely known for her portrayal of Sarah O'Connor in HBO's Six Feet Under. For her performance, she received a nomination for Outstanding Guest Actress at the Primetime Emmys. At the same time, she was also acclaimed for her works on the big screen. This includes her roles in the films The Station Agent and Pieces of April. For the latter, she was nominated for a Best Supporting Actress award at the Oscars. She later had notable roles in the movies All the King's Men, No Reservations, Lars and the Real Girl, Good Night, and Good Luck., and Vicky Cristina Barcelona, among others. In the 2010s, she played Ava Paige in Maze Runner: The Scorch Trials and Maze Runner: The Death Cure. More recently, she starred as Jane Davis in House of Cards and Adora Crellin in Sharp Objects.
She may be nearing her 60s but the actress never lets age gets in the way. She's able to maintain her healthy figure thanks to her clean diet plan. "I'm gluten-free and dairy-free, and have been for many, many years," said the actress. "When I have a show, I eat a lot of protein, and I do some protein shakes," she added. She also tries her best to work out as often as possible. Otherwise, she just gets active in a basic way. That means lots of walking and errands.