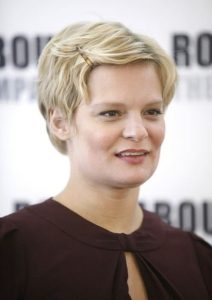 American actress Martha Plimpton started her Hollywood career in the 1980s. She debuted in the film Rollover in 1981. Her next role was in The River Rat, released in 1984. She next gained mainstream prominence for starring in the 1985 movie The Goonies. For her performance, she was nominated for a Young Artist Award for Exceptional Performance by a Young Actress in a Motion Picture. She also gained critical praise for her roles in the films The Mosquito Coast, Shy People, and Running on Empty. In 1989, she starred as Julie Buckman-Higgins in the film Parenthood.
During the 1990s, she played the lead in the film Samantha. Subsequently, she had roles in the movies Mrs. Parker and the Vicious Circle, Last Summer in the Hamptons, I Shot Andy Warhol, I'm Not Rappaport, Eye of Good, and 200 Cigarettes. In 2002, she guest starred as Claire Rinato in Law & Order: Special Victims Unit, which got her an Emmy nomination. More recently, she played Patti Nyholm in The Good Wife, for which she won a Primetime Emmy Award for Outstanding Guest Actress in a Drama Series. She also played Edie Weitz in HBO's How to Make It in America. From 2010-2014, she became best known for her role as Virginia Chance in Raising Hope. Afterward, she starred as Eileen O'Neal in the short-lived series The Real O'Neals. This year, she played Dr. Sharon Fulton in The Blacklist.
The 48-year-old Martha Plimpton stays in shape by sticking to a healthy diet. However, she acknowledges the challenge of maintaining nutritious eating habits, especially as an actress. For instance, the actress admits that she rarely has breakfast. But when she does, she makes sure it's something healthy. "I rarely eat breakfast unless I'm working, and then I usually get something at work involving scrambled eggs, bacon, a bagel, and sliced tomato and/or watermelon. I know – super boring," said the actress.