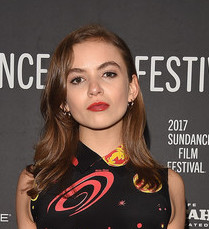 Morgan Saylor started her professional acting career at a young age. She first appeared as the Young Meadow in The Sopranos in 2006. After this, she appeared in an episode of K-Ville. Soon after, she landed her first role in the movies, playing the part of Annie in 2009's Cirque du Freak: The Vampire's Assistant. The following year, she played the young Claire in the film Father of Invention. She also had a role in the movie The Greening of Whitney Brown.
Saylor's first starring role on television was as Dana Brody in the Showtime series Homeland. She starred as part of the show's main cast from 2011 to 2013. After she left the show, she landed a couple of roles on the small screen. During this period, she had performances in the feature films Jamie Marks Is Dead, McFarland, USA, Being Charlie, White Girl, and Novitiate. More recently, Saylor starred in the French-American movie Novitiate, as well as in the drama Blow the Man Down. The actress has also performed in theater.
Morgan Saylor takes care of her body and overall health by eating well and working out. Exercise for her doesn't mean classes or gyms. While she works out at the gym and attends classes, the actress also enjoys simple exercises like running and simply being active outdoors. "I love running. I also enjoy biking, especially in the city. I like a long ride, like out to the Rockaways," said Saylor.
"It's more than two hours from the city, but delicious and so worth the length." She doesn't follow a particular workout routine as she's still discovering what works well for her. Nevertheless, she combines running, walking, swimming, and some sports as her ways of staying in shape. She's also trying other things like yoga and Pilates to keep her mind healthy as well.