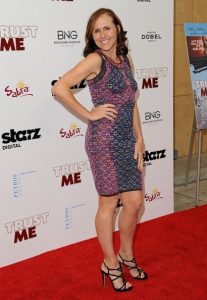 Molly Shannon debuted in the 1989 film The Phantom of the Opera. She then landed more roles in the 1990s. Some of these include Return to Two Moon Junction, Analyze This, and Never Been Kissed. She then had her major breakthrough as a main cast member of the sketch comedy series Saturday Night Live (1995-2001). Around this time, she played Val Bassett in Will and Grace. For her performance, she was nominated for a Primetime Emmy Award for Outstanding Guest Actress in a Comedy Series.
In the 2000s, she starred in the films Wet Hot American Summer, Shallow Hal, My Boss's Daughter, Scary Movie 4, Marie Antoinette, and Evan Almighty, among others. Back on TV, she played Lesley Shackleton in Cracking Up. From 2008 to 2009, she co-starred in the sitcom Kath & Kim. In 2013, she guest-starred in Eileen Foliente, for which she was nominated for another Primetime Emmy.
In 2015, she reprised her role as Gail in the web series Wet Hot American Summer: First Day of Camp. Since 2016, she stars as Diane in the HBO comedy series Divorce. She played Gail again in Wet Hot American Summer: Ten Years Later. Back in the movies, she had notable performances in Other People, Fun Mom Dinner, The Layover, and Half Magic. She went on to portray Emily Dickinson in the film Wild Nights with Emily.
Apart from her workout routine, Molly Shannon stays healthy by eating well. But she also doesn't deprive herself of anything. It's all about balance for her. "I don't diet at all. I eat when I'm hungry and I stop eating when I'm full, and if I do eat too much to the point where I'm too full, I'm just gentle with myself. That's my general rule. I don't weigh myself or anything like that," said Shannon.
"So, I do not diet. I did that a long time ago, and for me, it doesn't work. It makes me crazy, and makes me feel deprived. I don't deprive myself. I have French fries and mayo, but then naturally I will eat healthy because I don't deprive myself."