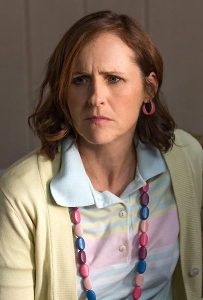 Hollywood actress Molly Shannon had her career start in the 1980s, though it was in the '90s that she became more active. During this period, she had roles in the films Return to Two Moon Junction, A Night at the Roxbury, and Analyze This. It was also during this time that she became further known for her regular stint on the sketch comedy show Saturday Night Live. After her stint on SNL, she mostly appeared in family and comedy films, including Wet Hot American Summer, The Santa Clause 2, My Boss's Daughter, as well as in Scary Movie 4.
She later portrayed Aunt Victoire in the historical drama Marie Antoinette. She later had supporting roles in the movies Evan Almighty, Snow Buddies, Bad Teacher and many others. She reprised her role as Heather Darcy in Scary Movie 5, too. More recently, she starred in the movies Other People, Fun Mom Diner, The Layover, and Private Life. She has also reprised her role as Gail Dana in the shows Wet Hot American Summer: First Day of Camp and Wet Hot American Summer: Ten Years Later.
The 53-year-old actress remains in top shape because she follows an active lifestyle. Being a full-time actress and a mother of two kids, Molly definitely has a busy life that makes her naturally on-the-go, which of course, is physical in itself. The comedic actress also exercises through her errands. For instance, walking and climbing the stairs can be considered as a great cardio already.
Naturally, the former SNL comedian also loves sports and outdoor activities. These are also some of the ways she keeps her body fit and healthy. "Id exercise and eat right even if I didn't work in front of a camera. Growing up, I always liked playing soccer and running around. Now I run for 20 to 30 minutes a day. It helps me sleep. It de-stresses me. I love it, love it, love it," she said in an interview.