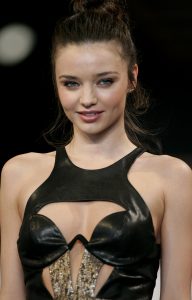 International model Miranda Kerr got her beginnings in her native Australia. She began her career when she was only 13, joining a modeling competition sponsored by Dolly magazine. She ended up winning the content, leading her to professionally start a modeling career. In Australia, she first became known for her modeling works with Billabong. This gained her recognition in Australia and Asia, respectively.
Her success made her decide to move to New York. There, she started with doing runway appearances. She was also featured in prominent magazines. This includes Elle, Australian Vogue, and Harper's Bazaar. She found greater success as a model after working with Maybelline New York. Subsequently, she became a Victoria's Secret Angel, increasing her modeling fame. In addition, she has appeared in Australia's Next Top Model for its cycle 10 as a guest mentor.
Being a model, Miranda invests time and effort to take care of her body and her health. In an interview, she revealed that she prefers exercising in the morning rather than at night. She also tries to perform at least 30 minutes of yoga every day. She actually loves meditating. She said: "I like to pray and I like to meditate. Doing just three minutes of prayer and a minimum of five minutes meditation twice a day sets the tone." She also credits meditation as a way of helping her deal with challenges.
After this, she will either perform "Pilates or strength training with weights and resistance bands". This is her way of toning her muscles. In another interview, she revealed: "I like to exercise every day, but I mix it up. Sometimes I'll go for a walk or a run, or I'll do Pilates or resistance training. I may even just put some music on and let Flynn dance around while I hold the plank position for 10 minutes to strengthen my core."